Muscling Through
This week we are featuring an article written in 2015 about our founder, Greg Roskopf, and how he developed Muscle Activation Techniques® (MAT®):
"Broncos fans can thank a rock quarry in Iowa for extending Peyton Manning's career. That quarry is where, in 1982, William Penn University linebacker Greg Roskopf fell 20 feet, suffering a lower lumber compression fracture.
The Start Of An Era
Eighteen years later, the injury would lead Roskopf, now a sports medicine specialist, to develop Muscle Activation Techniques, a treatment for musculo-skeletal imbalance that Manning has been receiving once a week for the past six years. (He flew Englewood-based Roskopf to Indianapolis every two weeks before Denver snagged the QB in 2012.) In a 2012 Sports Illustrated piece, Manning credited MAT for helping prolong his career. Fortunately for you and me, the treatment is not just for the pros.
Muscle Activation Technique is essentially a highly personalized assessment and treatment of imbalances in body mechanics that Roskopf developed over the course of about 10 years, largely in search of his own relief.
Despite taking a year off from football in college, Roskopf's back continued to plague him into his 20s. While completing his master's in physical education, he also started experiencing knee and foot problems.
"I thought, If I'm this bad at 25, what am I going to be like at 50?"
So between his jobs as a strength and conditioning coach for California State University Fresno and later the Utah Jazz, he studied the interconnection of the musculoskeletal system, attending seminars with the foremost specialists in everything from sports medicine to podiatry. In 2000, he put it all together in MAT.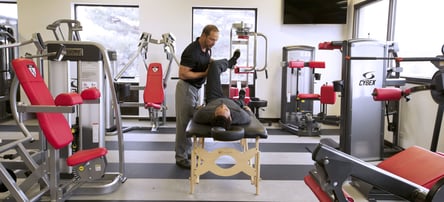 Here's how it works: When the body senses instability, as with an imbalance or injury, Roskopf says, the brain sends a message to tighten the muscles in that area. Over time, this constant contracting can lead to inflammation and biochemical changes that can alter communication between the brain and muscles.
Roskopf likens it to a loose car-battery cable. Your brain sends a message to the muscles to contract, but they don't always receive it. So other parts of your body compensate, and the cycle of imbalance continues. MAT seeks to end the cycle by stimulating those nonfiring muscle fibers..."
KASEY CORDELL, FEATURES EDITOR
This article appeared in the April 2015 issue of 5280. Kasey Cordell is 5280's features editor.