What Do Physiotherapists Do?
Physiotherapists, also known as Physical Therapists, are healthcare professionals that help assess individuals affected by injury, illness, or disability. This is done through different manual therapy techniques, controlled exercise, specific education, and movement training.
What are the Duties of Physiotherapists?
Physiotherapists help maintain the health of people of all abilities and ages. They are typically employed and sought out to help people with pre-and-post-operation recovery. Most physiotherapists tend to work in outpatient, private practice, or hospital/in-patient settings.
These professionals encourage the growth and development of an individual who recently was affected by an injury or surgery. Their goal is to get the patient back to their previous baseline and capabilities.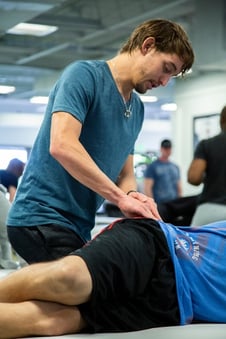 How do you become a Physiotherapist?
Physiotherapy is a degree-based healthcare profession that can lead to many opportunities in the health care industry. Some Physiotherapists choose to specialize in an area of health such as cardiovascular or neuromuscular that allows them to concentrate their skills.
For example, Physiotherapist and MATRx® Practitioners, Mark and Anne-Marie Trombold from Seattle, Washington have experienced increased patient referrals and higher patient outcomes using Muscle Activation Techniques® (MAT®) as an adjunct to their core business. Read what Mark and Anne-Marie Trombold have to say:
"MAT utilizes the most specific muscle testing procedure and palpation techniques we have ever been taught. Patients experience an immediate change in ROM, stability, and resolution of pain along with increased function. We have not seen such immediate and lasting results with any other techniques taught in physical therapy. MAT has been so powerful in our practice that Anne-Marie and I have a 6 to 8-week waiting list for our MAT skills".
Mark and Anne-Marie have been doing Muscle Activation Techniques for a decade and continue to express that their practice revolves around their MAT skillset.
Another example of a Physiotherapist integrating MAT® into their practice is Shannon Maixner, Physical Therapist and MAT Practitioner out of Minnesota. Here is what Shannon has to say:
"With very few exceptions MAT® has provided more positive results to our clients than any other technique I have witnessed during my time in the wellness industry. When executed correctly, the techniques developed by MAT® make a difference to the physical well-being of our clients".
Learn more about the MAT thought process and how to get certified by connecting with our education team at info@muscleactivation.com!