HUGE WIN for MAT®: Bryson DeChambeau wins the Us Open
Bryson DeChambeau, MAT® client, dominated the US Open golf course this year and being a part of his elite team has been an amazing honor! Many health and wellness industry professionals think that isolated training has no benefit or carryover to functional movement. Bryson is proof of the opposite! Bryson has now become the longest driver on the PGA tour and we want you to hear how his training regimen maximized his strength potential, increased his flexibility without losing mobility or stability, and has kept him injury free!
Greg recently spoke on how the present wave in exercise has a focus on functional movement and its relationship to the myofascial system. In this he believes that isolated exercises have taken a back seat. Check out this incredible opportunity to learn and hear from founder and developer of MAT, as he lectures on isolation vs integration.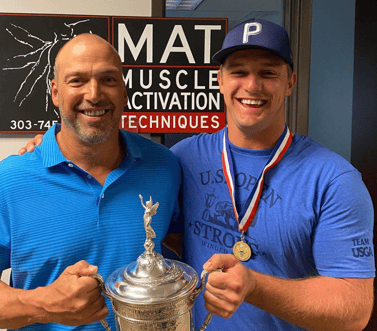 Greg went deep into the reasons why and how we are only as strong as our weakest link and how that relates to the muscular system. He expanded on how the integrated system is only as good as the function of the isolated parts and why this is relevant for clients of all ages and all abilities.
We pulled together some of the most recent articles talking about Bryson's transformation and where Muscle Activation Techniques® has been a part of his equation:
Golf Digest:
"DeChambeau is so full of good ideas that come of them are going to trickle down, particularly if he keeps winning. Whatever Chris Como, his coach is doing. other coaches will do. Muscle Activation Techniques, which has been a staple in the NFL for years, will become widespread in golf. Barring any major rules change, power will reign even more completely than it did before, and player physiques will reflect it. All of DeChambeau's good ideas will be copied." Read the full article here!
Yahoo Sports:
"So he got straight to work – with the trophy in tow, DeChambeau flew to Denver on Monday to meet with fitness coach Greg Roskopf and begin outlining the next phase of his evolution.
Less than a year after transforming his body to add more than 40 pounds of muscle and gain 20-plus yards of distance, DeChambeau was the only player under par at mighty Winged Foot and won by six shots for his first major title. But as always with DeChambeau, it's about what's next – more strength, more length, more speed. Asked late Sunday how he'll prep for Augusta National, he said he'll begin testing a new 48-inch driver, the maximum length allowed under the Rules of Golf. He already has the highest apex height (140 feet) and longest carry distance (314.1 yards) on Tour, but if his driver is dialed in properly, that'll bring him even closer to the holy grail, which to him is a ball speed consistently in the 200-mph range." Read the full article here!
Golf.com:
"Greg Roskopf's credentials speak for themself — he's been a performance and injury prevention consultant for the Denver Broncos, Denver Nuggets and Utah Jazz over the course of 25 years. He's also the man behind Bryson DeChambeau's incredible transformation over the past six months.
Roskopf is also the founder of Muscle Activation Techniques and sees plenty of golfers come through his doors looking for help getting physically fit to swing a club well.
Of all the golfers he sees, there's a common muscle group they all overlook: the obliques.
"The obliques are where I see the greatest weaknesses," Roskopf said. "And the obliques are what we need to generate the forces to have a good swing."
For golfers, the obliques play a huge role in generating the rotational forces needed for a powerful swing. Not only do they help you turn your torso, but they also play a key role in turning your hips. And when muscles are weak, they show up as tightness according to Roskopf. That tightness prevents a golfer from making a good swing. It's as simple as that." Read the full article here!
Interested in becoming certified in MAT to further help your clientele? Let's get connected!