August Newsletter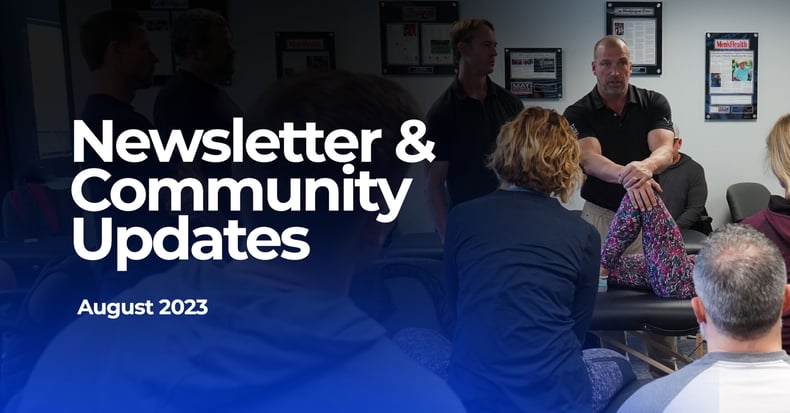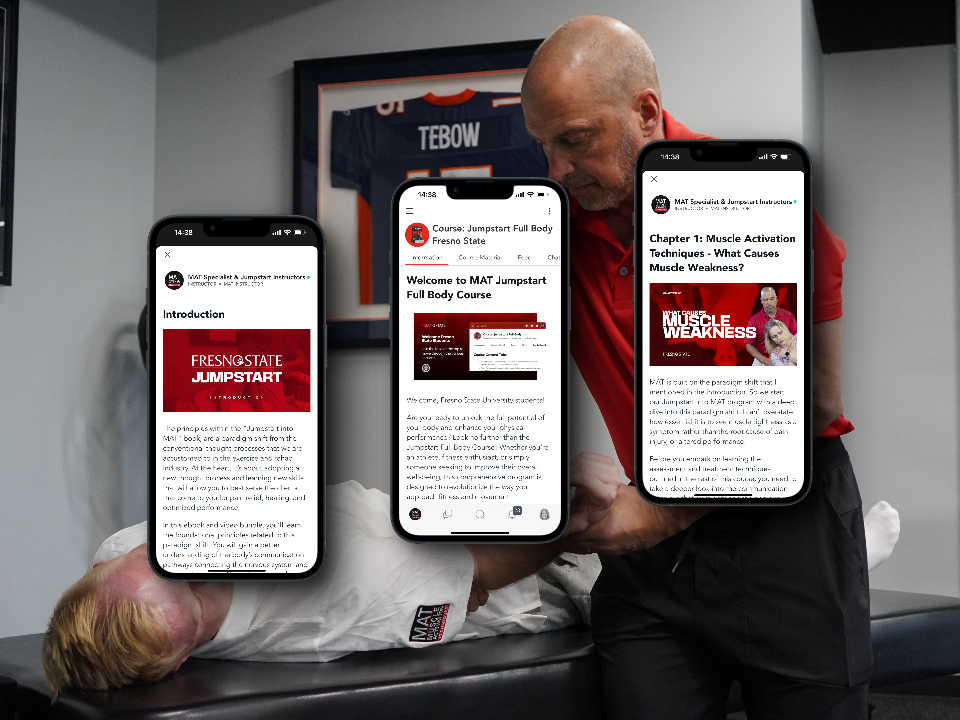 MAT Brand Update
Jumpstart Curriculum Integrated in Fresno State this Fall Semester
Greg's alma mater, Fresno State, has instated MAT's Jumpstart Course into their college curriculum this fall. Let's give these new students a warm welcome as they enter our community network and begin their MAT journey!
---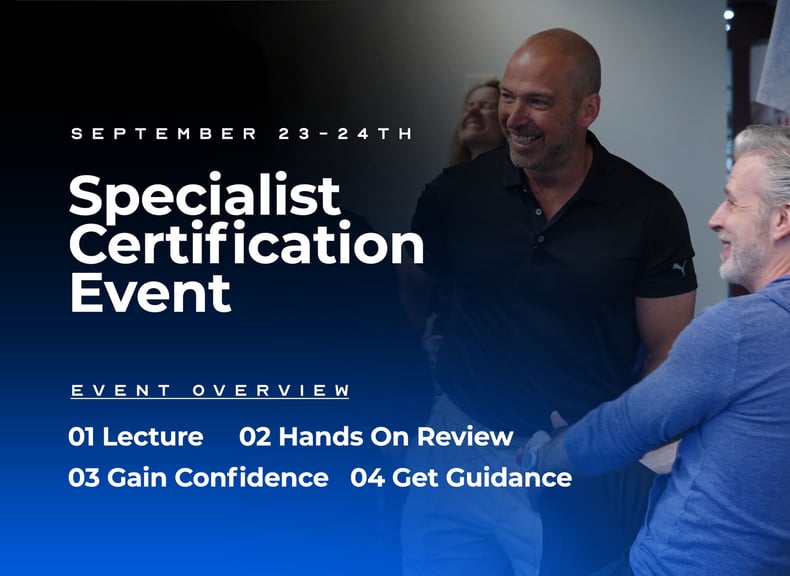 Save The Date
MAT Specialist Certification Event
To attend this event you must be registered in a Specialist level certification course.
Event Details:
Lecture by Greg Roskopf held on September 24th

Hands-On Practical Review

Gain Confidence in Your MAT Skills

Guidance From Top Practitioners
Our goal is for participants to learn our unique systematic format to help their individual clients function with maximum efficiency and give them a better quality of life!
Eligibility:
Those looking to certify in Specialist Full Body need to complete all 9 Techniques Courses and the 3 Certifications courses. Attendance is mandatory for both days.

Those looking to certify in a Single Subject Certification need to complete the 3 Techniques Courses within their subject. The first day (23rd) is mandatory and the second day (24th) is optional.
Those who are attending for a CEC, the first day (23rd) is mandatory and the second day (24th) is optional.

If you are interested in attending this event and need to complete two out of the three techniques courses, chat with MAT Support account to learn about your options!
This link will take you to the main education page that lists all course options. Please scroll through to find the certification course that applies to you.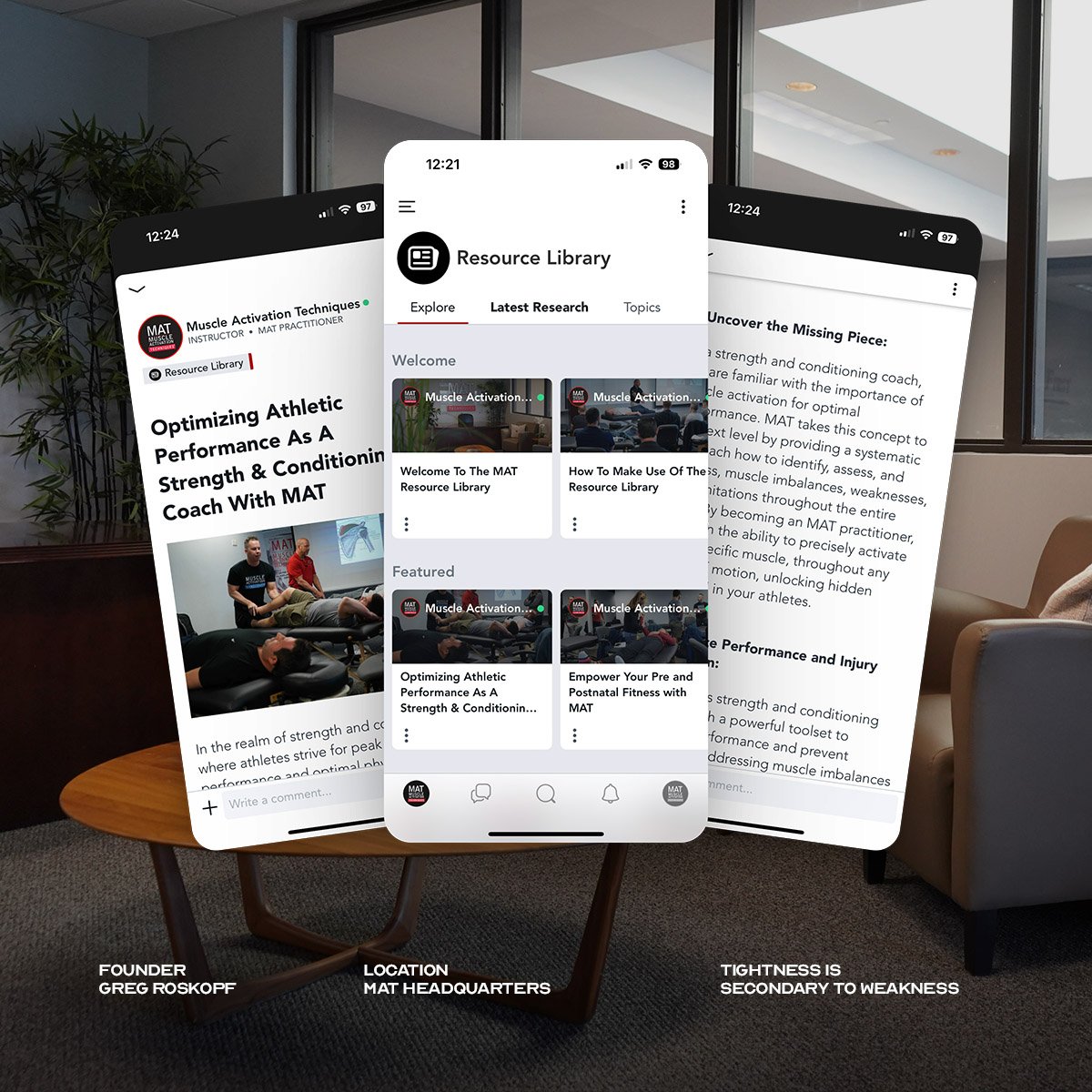 The MAT Resource Library




The Muscle Activation Techniques Open Resource Library is a groundbreaking resource designed to fuel knowledge sharing and advance the field of muscle activation. As part of our ongoing commitment to transparency, education, and fostering collaboration, this open research library is now accessible to all members of the MAT community.

The MAT Open Resource Library serves as a comprehensive repository of research papers, studies, articles, and other valuable resources related to muscle activation. It provides a platform for practitioners, researchers, students, and enthusiasts to access information, stay up-to-date with the latest advancements, and engage in meaningful discussions with peers.
Powerful Alone. Better Together.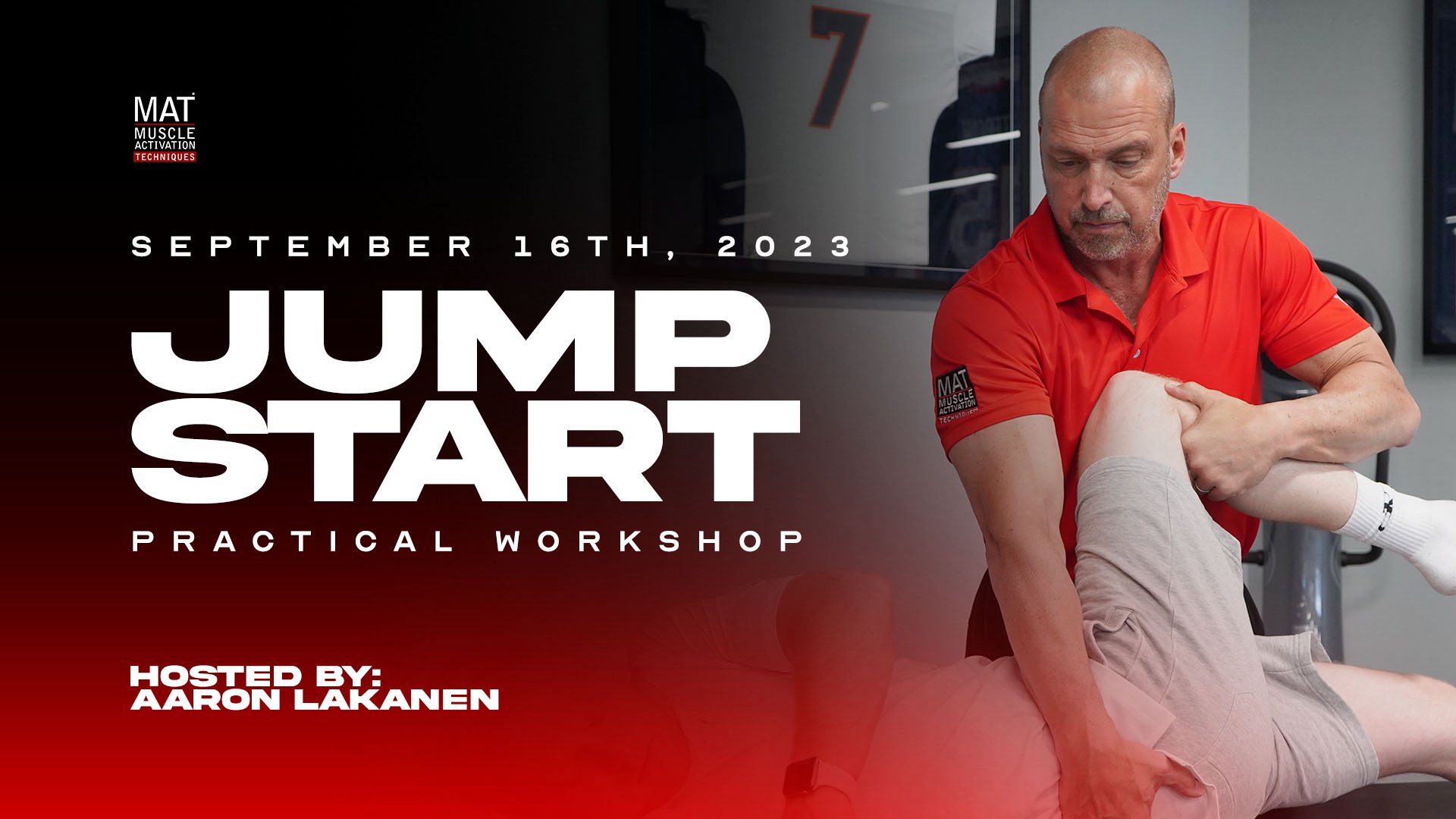 MAT Jumpstart Practical Event
September 16th is the next LIVE Jumpstart Practical Workshop with one of the best, Aaron Lakanen.
This will be LIVE on Zoom so you can tune in, ask your questions, and get the help you need! Access to this event requires the purchase of a Jumpstart course. RSVP TODAY in the Events Calendar section upon purchase of the course.
A recording will not be provided, please join us live!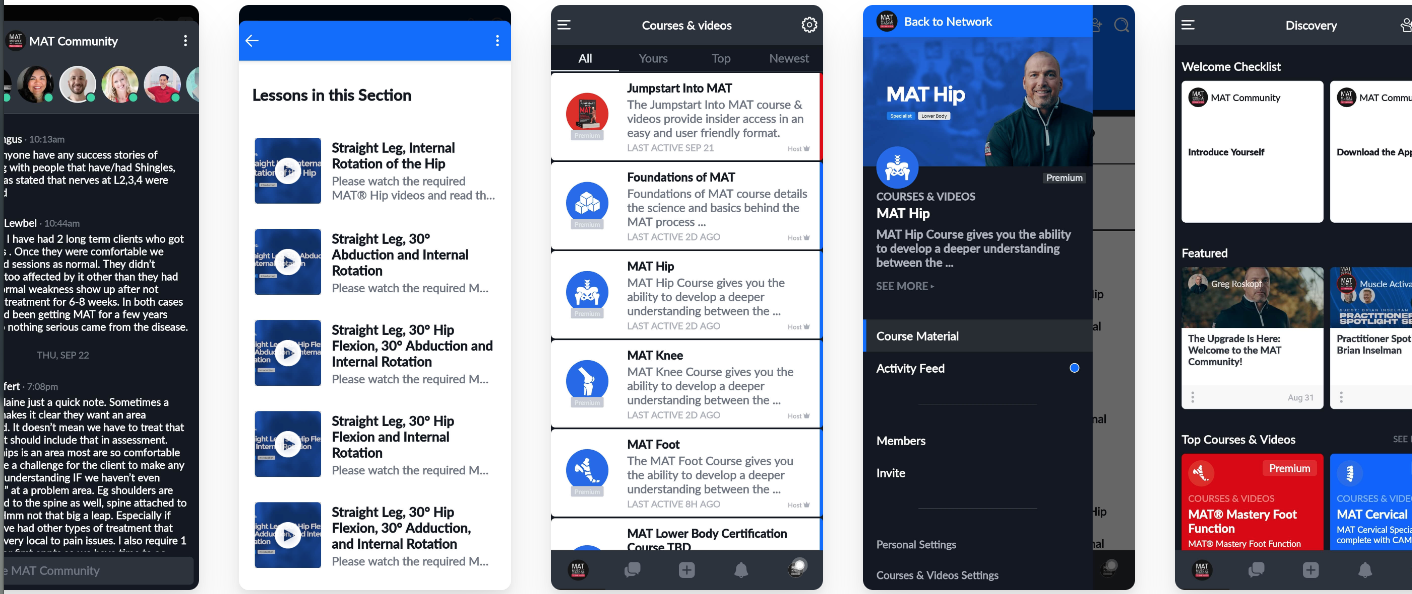 MAT Techniques and Certification Courses
are Available at Any Time
All new MAT participants will begin with a Jumpstart course within the category of Lower Body, Upper Body, Trunk and Spine, or Full Body, prior to taking our Specialist Techniques courses.
We believe that having these principles is where our new to MAT participants should begin their education and will establish a solid foundation for the techniques and certification courses at the Specialist level.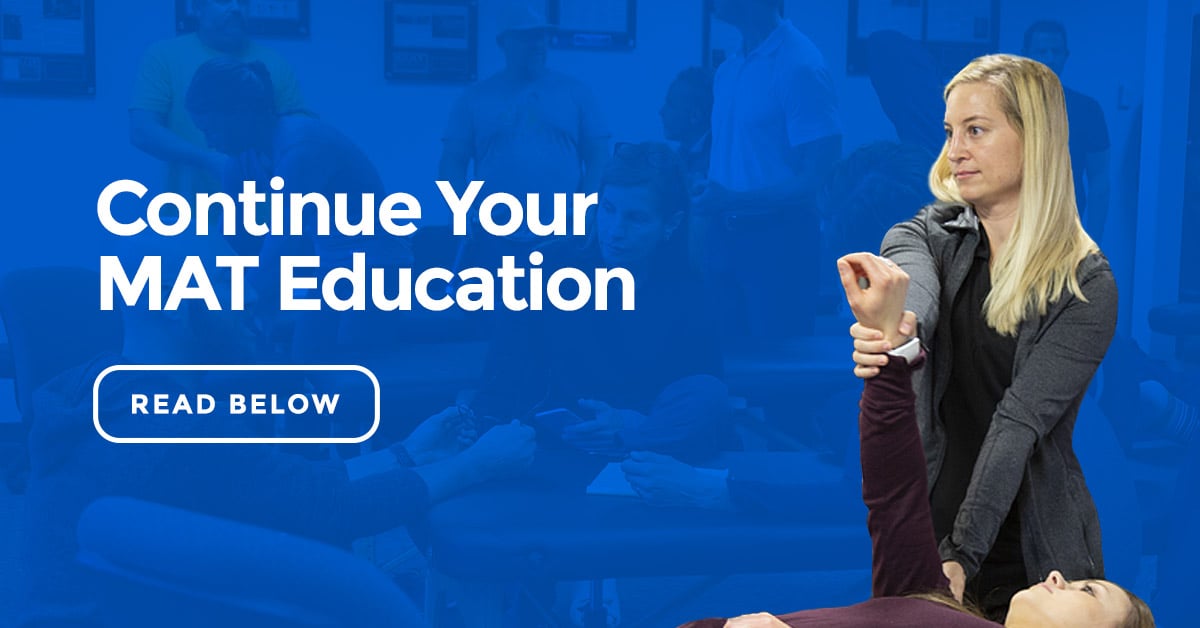 Maintain or Advance Your Credentials
We have made our education process more affordable and easier to maintain and advance. Here you will find details pertaining to your certification level, course dates, and more!
We have new CEC options for this year - multiple online and in-person options!