Throughout each year we are continuing to evolve our education programs. A focus of ours in the last two years has been on creating a more flexible and convenient Specialist Program. Through this development, we have seen strong student outcomes that have shown the power of our newer hybrid format — online content with an in-person practical lab.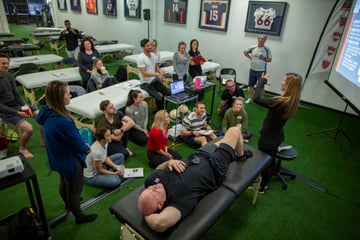 With the success of our students in the hybrid Specialist programs since our first launch in 2017, we continue to develop all of our courses throughout the education continuum in this format. This year, the launch of the Mastery Online Lower Body module is the first course offered in the hybrid format from the traditional Masters Program.
Students from a variety of backgrounds including physical therapists, nurses, strength and conditioning coaches, and other health industry professionals continue to express their strong positive feedback about incorporating MAT® within their existing toolbox.
Hear from MAT® founder and developer, Greg Roskopf, about how online delivery for MAT® education continues to improve student outcomes by providing more resources and support.